Wild Earth from Natures Aid is among specifically designed ranges of vitamins and supplements, aimed at being planet-friendly and eco-friendly. The brand's ambition is to offer a natural solution for consumers seeking a sustainable way to look after themselves. [1]
Natures Aid has been manufacturing and supplying nutritional supplements for more than four decades. Established in 1981, Natures Aid has become recognized in the UK as a brand of vitamins, supplements, and herbal products.
Developed hand-in-hand with consumers, Wild Earth has been carefully crafted to meet and exceed the expectations of the eco-conscious shopper through ingredients and formulations such as turmeric, magnesium, and organic evening primrose oil.
Recognizing the rapidly growing interest in eco-ethical purchasing, Natures Aid embarked on the Wild Earth project with the goal of leading the way in eco-ethical vitamin, mineral, and supplement (VMS) portfolio, providing a true eco-ethical solution for responsible consumers that put sustainability in focus.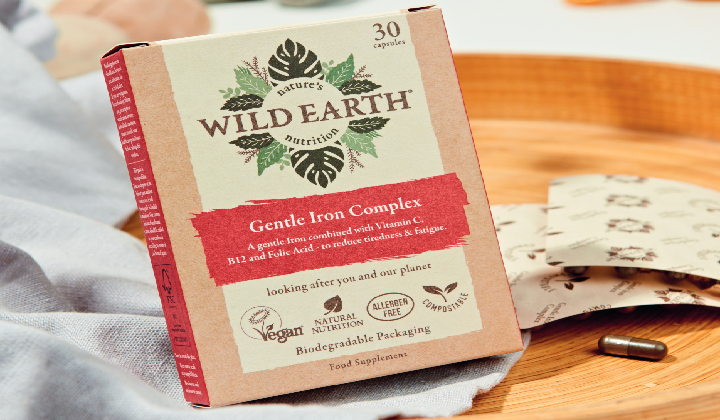 Driving innovation
Natures Aid has created a fully eco-friendly, recyclable, biodegradable, and compostable packaging solution for Wild Earth.
In the Wild Earth box, consumers will find a real innovation that has the potential to solve a major packaging problem in a sustainable way: the world's first biodegradable blister pack. It was developed together with environmental experts and validated by the Eden Project Research Laboratory. Consumers can dispose of this blister pack in any waste bin as it is biodegradable.
During 2021, Wild Earth partnered with Trees for Cities, the UK charity working with local communities to plant trees in cities.
[1] The brand was awarded the Sustainability Project of the Year Award at the Consumer Healthcare Industry (CHi) Awards hosted by OTC Toolbox. It also received a Queen's Award for Enterprise in International Trade in 2021 in recognition of its export network covering more than 50 countries.