The first STADA Health Report was launched in 2014 and now has been conducted internationally to deliver a data-based foundation to enable and initiate a discourse on an important topic of people's health. The Report showed that, due to the pandemic, a lot of people had to forego necessary, regular visits to their doctor to monitor chronic diseases. [1] At the same time, COVID aggravates such chronic issues as cardiovascular diseases and diabetes.
Post-COVID syndrome: preventive healthcare tips from cardiologists and general practitioners
In 2021, STADA's affiliate in Russia created an advisory board with healthcare experts to exchange scientific expertise on the use of antiplatelet drugs as a prevention of vascular complications after a COVID-19 infection. It involved specialists in the treatment of coronavirus patients with the aim of sharing expert opinions on controversial and ambiguous issues related to the prevention of arterial vascular diseases (heart attacks, strokes, cardiovascular death) with further implementation of this expertise in clinical recommendations.
The board shared its recommendations on post-COVID health prevention with public health care institutions. It was followed by a campaign for doctors, pharmacists, and consumers offering an online self-assessment of post-COVID risk factors with advice on how to improve prevention and full recovery after having COVID.
Mobile diagnostic services for the community
In 2021, STADA organized medical examinations for people living in remote areas who had COVID-19 and comorbidities, using the STADA Mobile Diagnostic Complex (SMDC). The SMDC consists of medical offices equipped with medical equipment in a mobile truck. The focus in 2021 was to draw attention to post-COVID syndrome and the importance of medical examination with early detection of medical complications and consequences. [2]
This STADA initiative was supported by the Ministry of Health of the Republic of Karelia, enabling 250 residents of remote areas with limited access to public healthcare services in Medvezhegorsk, Segezha and Belomorsk[3] have undergone in-depth medical examination. In 2022, STADA plans to continue similar projects in different countries to offer people in remote areas the opportunity to undergo an in-depth medical examination.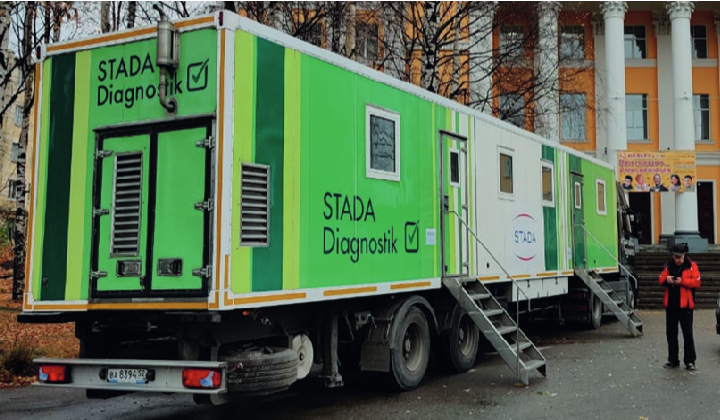 Preventive health education
STADA recently launched the new section "Stories" on its global website in 2021, dedicated to the preventive health education of the general population and to promoting healthy lifestyles and well-being. This specific blog format offers quality pieces of advice on good health divided into three main sections: Health, People, and Research. [4] In 2021, COVID-19 prevention was among the most important topics, as well as post-COVID recovery, especially promoted with a specialized self-assessment test offered online by STADA in Russia. In addition to being present on the global site, STADA, together with its subsidiaries, shares local stories that promote good health and well-being.
References
[1] European average is 10%.
[2] This initiative aimed at improving the health of the general population received the 2021 Russian Pharma Award, an annual award in the field of pharma and medicine.
[3] Remote areas with limited access to public healthcare services were chosen as the focus of this initiative.