Many people live on their own. For them, the need to keep their distance during the Corona pandemic poses a particular challenge, especially when they no longer meet colleagues by chance in the kitchen or printer room due to working from home.
Every crisis feeds uncertainty
Like any state of emergency, the current COVID-19 situation offers the ideal breeding ground for worries, fears and insecurity: When can we return to our "normal" life? What will my life be like after the pandemic? What happens if I get infected or my parents or friends get sick?
Turn sorrow into strength
The first commandment of the hour: Keep calm. It is perfectly normal to go through such thoughts in a crisis situation like the one we are experiencing right now. In one way, they even help us in a crisis. Concern for one's own health, for our family and friends, can provide support. Those who know why social distance is important can more easily endure their need for closeness and company. Psychologists stress that it is also important to accept negative feelings (1). It sounds paradoxical: if you allow yourself to feel weak and vulnerable, you gain strength.
Alone, not lonely
A lot depends on how we perceive and deal with our situation. Do we stay in touch with our friends and colleagues by phone or e-mail? Or do we feel isolated and lonely due to the restriction of contact? If that is the case, the alarm bells should be ringing: Various studies show that loneliness can make you sick (2). For people who live alone and are prone to depression, contact restrictions can increase such feelings of loneliness and set off the famous carousel of negative thoughts. But it does not have to come to that.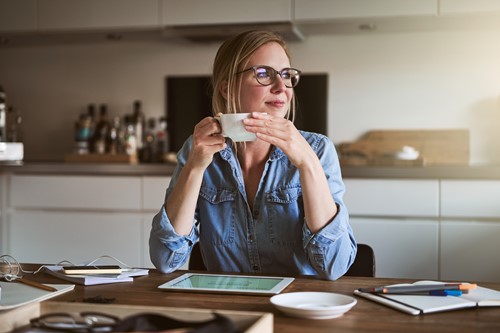 Make sure you have a regular daily routine. Make daily and weekly plans in which you determine when you work, eat and - important! - take a break. Pay particular attention to good sleep hygiene with regular times to get up and go to bed.
Reward yourself every day with something that does you good: a book or the next episode of your current favourite series. Or how about a warm bath, a round of yoga or a walk? Some people rediscover old passions like building model cars ordoing jigsaws. What do you fancy?
Cultivate friendships. Today, there are more channels than ever before to get in touch with other people, from video calls to chat services to handwritten letters.
Regular team meetings are at least as important in the home office as in the office. If your supervisor doesn't call you regularly, just call them - or simply arrange calls yourself with your colleagues. Then don't just talk about professional matters, but treat yourself - just like in the office - to a little small talk or gossip.
If you are prone to depression or if you notice that fears and negative thoughts take up too much time: don't be afraid to ask for help.