STADA Health Report 2014
How healthy does Germany feel?
STADA's Health Report supports people in staying or becoming fit and healthy in their day-to-day lives. It focuses on the prevention and treatment of things like malnutrition, colds and injury-related pain. STADA intends to foster the awareness that people must take a responsible approach to their greatest asset "Health" in order to deal with their daily tasks. The STADA Health Report also enjoys the support of high-ranking experts in the fields of medicine, science, sport and lifestyle areas. Current information on the STADA Health Report and ongoing projects can be found here.
Four out of five Germans feel overwhelmed in their day-to-day lives. STADA's Health Report investigates daily approach to health.
85 percent of all Germans are satisfied with their daily lives. Yet four out of five citizens feel at least occasionally overwhelmed in their day-to-day activities. In addition, 45 percent are dissatisfied with their weight. These results were revealed in the first health report of STADA. The results of the representative survey carried out by Kantar Health Deutschland on behalf of STADA Arzneimittel AG range from interesting facts to intimate details of how Germans approach their own well-being. The results of the study reveal, among other things, which challenges Germans are faced with day in and day out.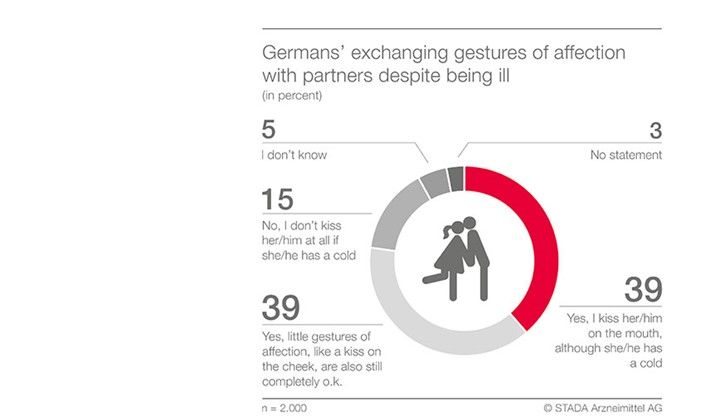 Kissing and cuddling despite colds
Around half the Germans show their heroic side when it comes to sparing their sweetheart from a cold. 55 percent of men would take their loved one's cold from them if they could, while 40 percent of women were willing enough to reciprocate the same sacrifice. Also when affection comes into play, many of those questioned were unwilling hold their passions at bay for mere cold: Nearly 40 percent would still kiss their loved ones on the mouth while another 39 percent permit smaller tokens of affection such as a kiss on the cheek. The complete STADA Health Report contains a wealth of other exciting results.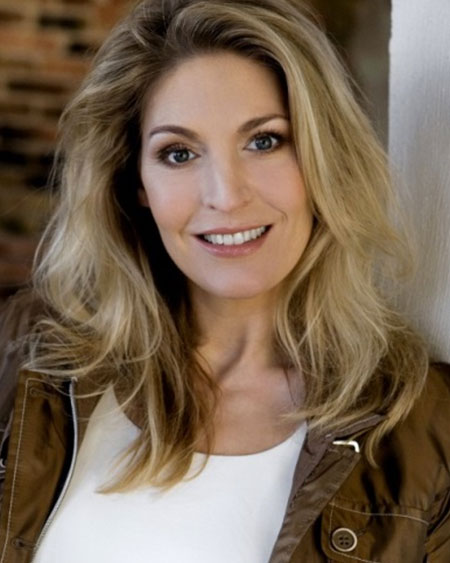 Interview with an expert: Dr. Stephanie Grabhorn
Dr. Stephanie Grabhorn Ward doctor at a specialized clinic for psychology, psychsomatic problems and psychotherapy. Health expert for prevention and diet as well as stress, sports and physical exercise
Dr. Grabhorn, how do you rate the importance of studies like STADA's "All the best" which aims to learn more about the day-to-day life and health-related challenges of Germans?
These kinds of studies are very important. Germany's biggest medical challenges and problems can only be identified by questioning people in a representative way or by conducting large-scale studies. That way, the public – and this includes doctors, too – gains a significant insight into the state of well-being of people in this country.
A large number of those surveyed felt overwhelmed in their day-to-day lives. You are a ward doctor in a specialized clinic. In your opinion, can this kind of situation actually become a health risk?
Certainly. The words "burn out" and "stress" have been used a lot recently and often appear in our day-to-day work at the clinic. Depression or "burn out" can develop when we are faced with too many demands – with corresponding psychological and physical consequences
What would you recommend to both men and women in order to cope with their day-to-day lives in a healthy way?
Obviously, exercising and eating healthy food are important factors. And a lot of Germans can still optimize the way they manage the demands of daily life. Targeted relaxation methods and deliberately chosen breaks during work time may be helpful here, too. If you look after it carefully – and don't allow yourself to become stressed too easily – the immune system will be strengthened noticeably. That way, the dark and cold winter will no longer be a problem.