For our Health Stories series, we spoke with Dr. Meike Streker, Cosmetic Scientist, about why it's so important to protect our skin from the sun. Meike says, "Enjoy the sun. But at the same time, give your skin the protection it needs."
How important is protecting our skin from the sun?
Where there is light, there is also shadow. And just because we can't see something, it doesn't mean it's not there. The brighter the light is the darker the shadows - and also the effects we can't see at first. Our skin is our largest organ - visibly and invisibly, it reflects how we treat it. It gives us warning signals in the short term, but unfortunately, it is not forgiving in the long term. How comfortable we feel in our skin depends largely on its health. Healthy skin promotes a healthy mind and we feel more confident and happier - this has been proven in studies. We can't influence everything, but we can give it the most important protection: The one from UV rays! Because our skin is our most important piece of clothing - and we take care of a designer dress.
Who are you and what motivates you about sun protection?
I am Meike, and I do research on skin health and beauty. I want to raise awareness about the topic - how skin care is holistically related to our health.
What do we know about the effects of UV rays?
Our skin has its own protective mechanisms. In summer, it gets thicker and the tan that develops helps it even more. But we should not leave it unsupported in this process. Because its own protection is not unlimited. We see the immediate damage in the form of redness, but we don't see the long-term damage at first. That is the dangerous thing. When my son was born, I became even more aware of the sensitivity of children's skin. But at the same time I reflected even more on my responsibility towards myself.
What can we do and what do we have to pay attention to?
We have to help with sunscreen. Even as a dark skin type. Even on cloudy days. Not only on vacation. We can enjoy the sun, of course, with enough protection – and enough may be twice as much as we thought. Every now and then, it makes sense to seek some shade.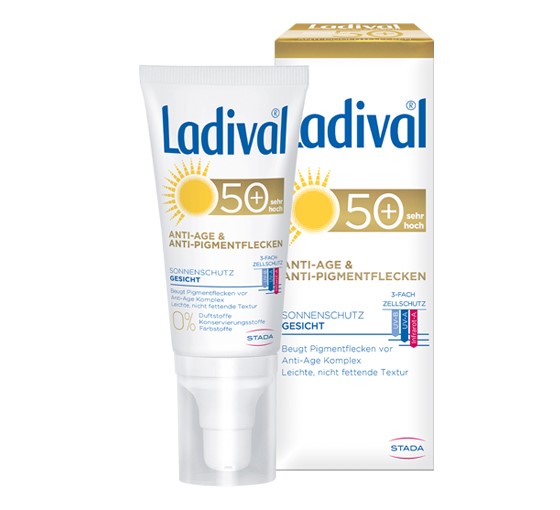 Ladival® Anti-Age & Anti-Pigmentflecken
Reduces and prevents pigmentation spots

Anti-Aging Complex

Ideal for daily use on the face, neck, décolleté and hands