Interview with Lisa Beggs, Sales Director at STADA Australia & New Zealand (ANZ): Impact of recent changes to our world and how we can continue driving commercial success whilst still caring for people's health.
What is your background and why did you join STADA?
I have a strong nursing background which is where my passion for patient care comes from. Loving a challenge, I transitioned to become a seasoned speciality sales professional working across large pharmaceutical companies in areas such as Neurology where I have built very strong relationships with HCPs caring for PD patients. Perfect background for joining STADA.
I have been with the company for 6 years, attracted by the values that strongly align with mine. Being able to make a difference and move with agility has been so rewarding. I also love the One STADA mentality where we can share best practices and work as a team to grow the company. How great it has been to chat with STADA staff as far away as the UK and closer now we are part of Emerging markets. The stronger the company, the more we can make a difference to people's lives and I enjoy playing a part in this.
How has your career progressed during your time at STADA and what are your key learnings?
I joined as a Hospital Sales Representative selling apomorphine to a network of Neurology HCPs leveraging my historic relationships and knowledge of the PD therapeutic area. I shared my keenness to assist team members and moved into a Sales Management position with responsibility for a team of HSRs in Australia and New Zealand. My most relevant key learning has been the ability to manage a very large geographical area requiring an ability to ensure each individual has the skills and resources to deliver their objectives. Ensuring they are highly motivated and can implement the marketing strategy is only possible if I champion it with my Marketing colleagues and take responsibility for being a strong voice from the field.
Post the many challenges over the last two years, what has impacted you the most?
The impact of the Covid pandemic and the lockdowns heavily affected how the field force could interact with Drs and HCPs. It required an entrepreneurial spirit to be able to pivot our approach and swiftly move to more virtual interactions in the short term. 
We also had to make sure we could still offer value and help them manage the needs of their patients. Having the STADA Nurse Advisor team still operating with PPE was inspirational and certainly positioned STADA as the partner of choice through the pandemic.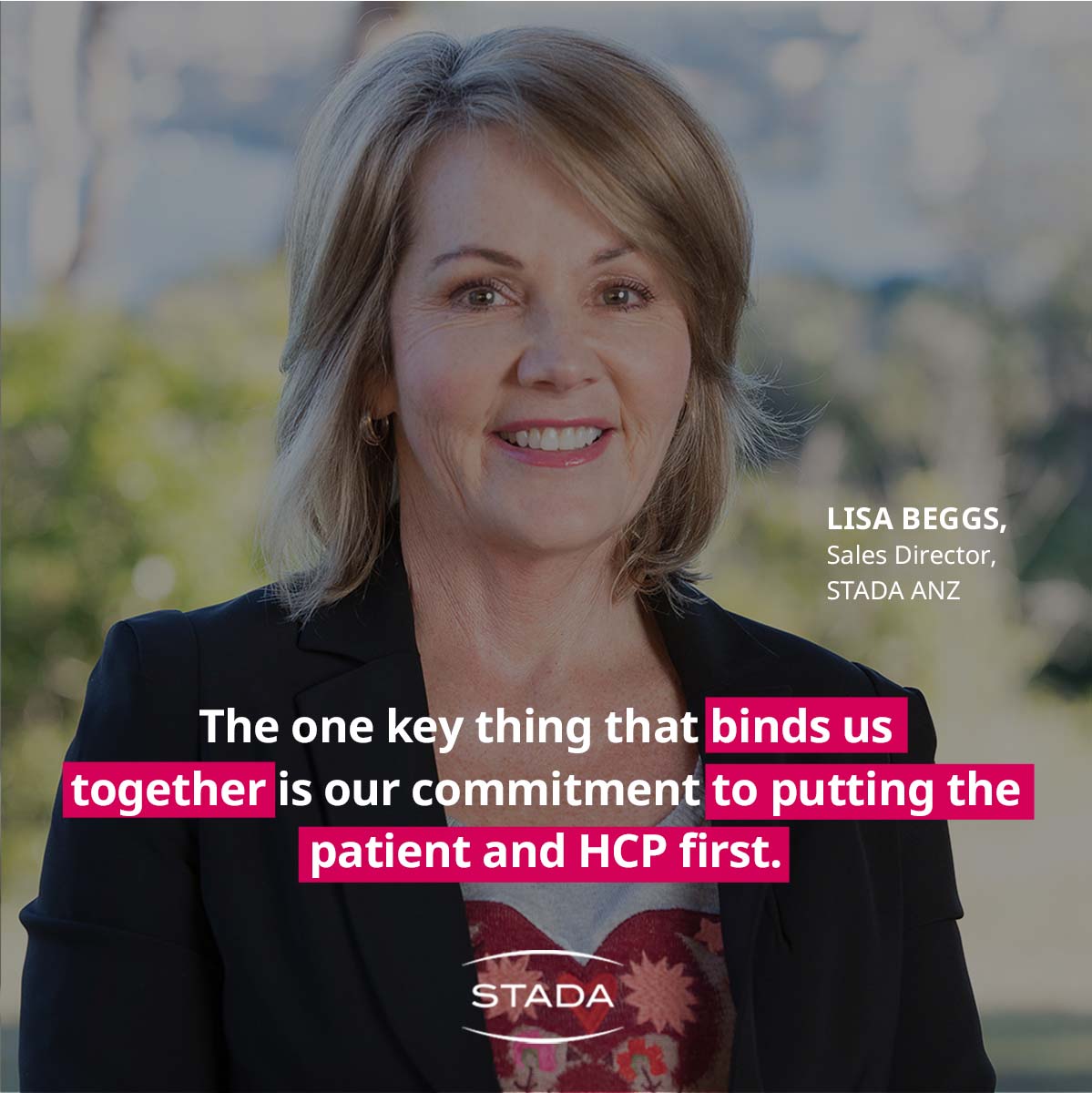 How do you measure success?
I know that delivering the top line as well as managing the bottom line is a key measure and I take this very seriously. To deliver on this, I need to ensure I have a highly motivated sales team as without this, the revenue and growth can't follow. It was great to see the ANZ team complete the internal employee PULSE survey with 100% enrolments and high engagement scores. Everyone was so appreciative of the support they were given to face the individual challenges thrown up by Covid, from managing home schooling to being supported when locked down at home. This will never be forgotten and I know the team will try even harder this year knowing we have this supportive culture.
We also have 100% staff retention rates for all our high performers, in a market now that has seen many high calibre individuals choose to leave the Pharma industry where they may not have had the required support. STADA has a great reputation, and I am confident that we can continue to recruit like-minded individuals who will be needed to support our future growth.
What makes your team unique?
They have demonstrated so much resilience and a willingness to reach out and support each other no matter what the challenge over the last 2 years. The creativity and drive to succeed and deliver their objectives have been in evidence every day. The one key thing that has bound us all together has been to commit to putting the patient and HCP first and always looking for ways to assist with our products and services. My team embraces this, and it has been an absolute pleasure to support them.