Berlin-based restaurant owner and artist Jinok Kim-Eicken talks about her motivation for healthy eating and the influence of her Korean heritage. For Jinok, nutrition means bringing elements into harmony in the preparation of dishes as well as keeping body and soul in balance: "Food connects, means sharing and creates community."
What does "healthy eating" mean to you?
When you meet someone in my home country of Korea, they don't say: How are you? Rather, they ask: Have you eaten yet? This perspective on being together has accompanied me my whole life and sums up the meaning for me very well. The topic of "healthy nutrition" therefore has a very high importance for me.
Today you run a restaurant in Berlin with your husband.
Yes, my guests meet me in the restaurant. There I can fully engage with health, nutrition and community. But the story around these themes starts with singing, with ceramics and with a garden. As a trained singer, I learned to work with my body, in the garden I found a deep connection with the earth, and with ceramics I combine both. When I first experienced the scent of parsnips, it immediately reminded me of a dish from my childhood that consisted of ingredients not known in Germany. Today, I combine local vegetables with traditional preparation techniques from my homeland.
That sounds very creative.
For me, creativity means not knowing what will happen next. Trusting in what comes. Passion, joy and courage must come from within. My ceramics bring this passion to the table.
How else has your homeland influenced you in terms of "healthy eating"?
The love of food is omnipresent in Korea. In my childhood, it was common to cook three times a day. Food connects, means sharing, and creates community. The basis of traditional Korean cuisine is three central ferments. In addition, there are many fermented vegetables and kimchi is part of every dish. So a vegan foundation, fish, and meat can then be added. A tradition that points very far into the future. A source of inspiration for our future diet.
And how do you implement this in cooking and in your restaurant?
Harmony is the measure in the kitchen. The balance of different elements of a dish, different spices, different ways of preparation. It has a positive effect on the body. Keeps us healthy and balanced. Harmony brings us in balance with our souls. Every day I make new experiences and learn. I would like to share this with my guests. Discoveries that surprise and touch the soul. A cosmos of ceramics and dishes that interpret each other. Bringing people together at one table. Like a bridge between cultures.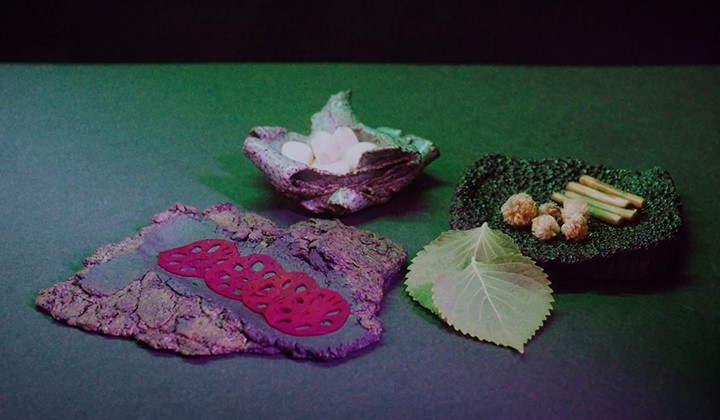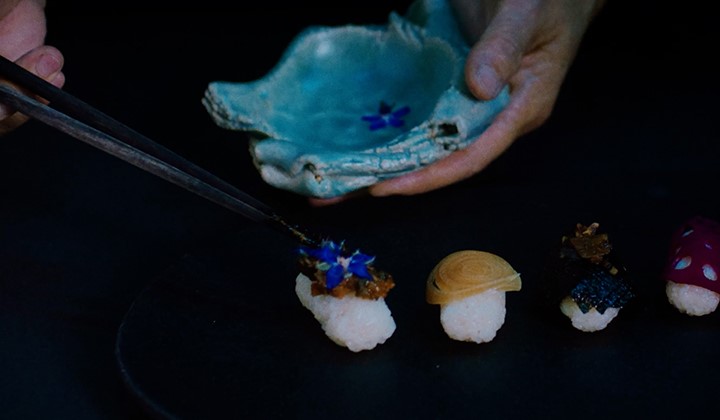 What belongs in a healthy diet?
The German Nutrition Society recommends five portions of fruit or vegetables per day. Eating plenty of fruit and vegetables is therefore always good. Reducing dairy products and eating meat and fish consciously and in moderation can also contribute to a healthy diet. In addition, you should take care to eat sugar wisely, choose the right fats and drink plenty of fluids (at least 1.5 liters). The diet should be balanced and varied. Fruits, vegetables and whole grains should ideally be on the menu on a regular basis.
How does the supply of nutrients affect our immune system?
If the body is not supplied with sufficient nutrients, susceptibility to infection can increase, especially during the cold season. In most cases, stress, lack of sleep and exercise are added to an unbalanced diet and further negatively impact the immune system. Our immune system is crucial to our health! It can protect us from infections. To strengthen the immune system, it is especially important to have a sufficient supply of vitamin C and zinc. Vitamin C can support the immune system and zinc plays a decisive role in many defense processes. Those who do not manage to take in these substances naturally through their diet can be helped by dietary supplements such as Cetebe® ABWEHR plus or Cetebe® Abwehr Fit. A vitamin D deficiency can also lead to increased susceptibility to colds in a weakened immune system.
How can Cetebe® vitamin capsules help?
When the body is exposed to intense physical stress, it places demands on the immune system. Anyone who wants to support their immune system should make sure they have an adequate supply of vitamins. Vitamin C and D contribute to a normal functioning of the immune system. Cetebe® vitamin capsules can help support the immune system and the defenses thanks to vitamin C, vitamin D and zinc.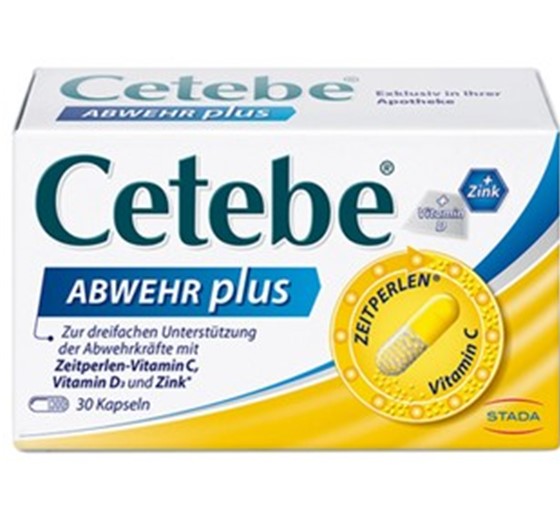 Cetebe® ABWEHR plus
Vitamin C, D3 and Zinc* 

Continuous supply of vitamin C
Food supplement
*Vitamin C, Vitamin D and zinc contribute to normal functioning of the immune system.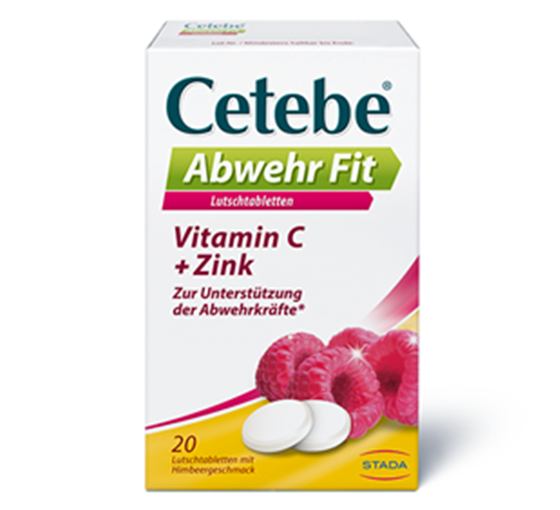 Cetebe® Abwehr Fit
Vitamin C and zinc*

Lozenge ideal for on the go
Food supplement