STADA Insights – Global HR Trainee Anna
Anna Cron joined STADA as Global HR Trainee during the Covid19 pandemic in May 2020. In our interview, she talks about the benefits of the trainee program and the virtual onboarding experience. She also gives us insights on how she already makes an impact in the global OneSTADA team.
Please introduce yourself and your role at STADA.
I just started working as a Global HR Trainee at STADA headquarters in Bad Vilbel. During the trainee program, I will pass through various functions of the centers of excellence in the Global HR team. Besides, I study International Management in cooperation with Steinbeis University.
You joined STADA only two months ago, what are your first impressions of our company?
I am pleased to share with you my first impressions, which are consistently positive. It is great to see that all employees are highly motivated and committed. Due to the current situation, I had some concerns about starting in the home office. These did not occur whatsoever. On the contrary, I was warmly welcomed by my colleagues and supported with regular phone calls from my mentor. Now, I am happy to come to the office twice a week to meet colleagues in person and to introduce myself to my new team members.
I am getting to know STADA as a company in which the corporate values are lived at all levels. Every day I work together with colleagues worldwide, which is exactly what One STADA is: Acting as one global team. I also like the fact that everyone is honest and respectful with each other. That gives me a good feeling and shows me that I can address everything openly. I can identify with the culture and I feel very well taken care of.
How has STADA helped you in your career development?
For me, STADA is not only an employer, but also a crucial part of my education. The trainee program is a huge opportunity for me and allows me to gain insights into various areas of the Global Human Resources Team. It enables me to get to know many people and learn from the most diverse ones. Through the program and regular feedback, I can reflect on my strengths and weaknesses and develop them further. Although I have just started, I have already been able to learn a lot and get insights into many different projects.
Besides being part of the HR team, I have the possibility to do my Master's degree part-time. This enables me not only to develop personally and professionally, but also to apply the contents of the course directly in the company. I am sure that this program is crucial for my further development and I am very grateful to be part of it.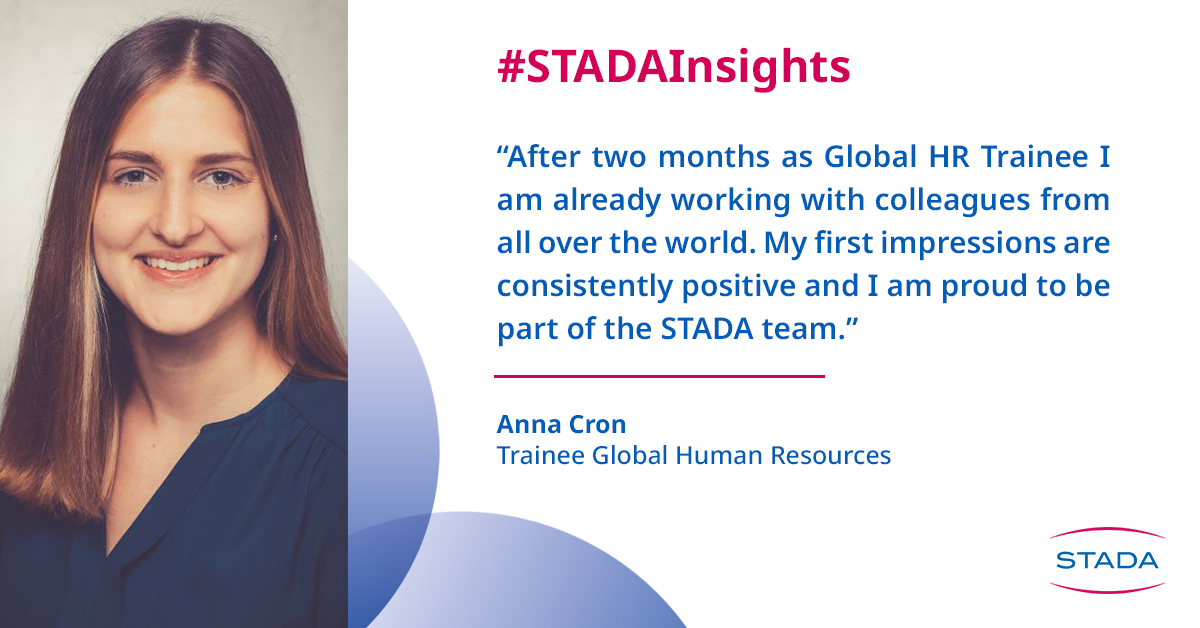 What advice do you have for someone interested in joining STADA?
STADA is always looking for new talents who want to shape the future of the company. It is important that your application is always authentic and that you have a great attitude and passion for the company and the department you are interested in joining.
In addition to the basic requirements, such as an above average bachelor degree, experience abroad and initial practical knowledge in the form of internships, motivation plays a very important role to become a trainee at STADA. You should always be open to new challenges. Furthermore, the ability to think and act in an entrepreneurial and team-oriented way are always beneficial. STADA, with its 125-year history, is a great company to build your network and start your career.